Howdy folks,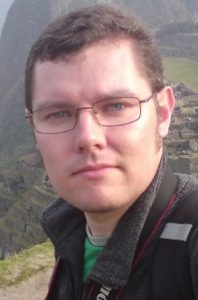 Get out your welcome banner and shake up that champagne because we've got a new announcement: Cameron Johnston has agreed to a full brain augmentation, the insertion of various tracking devices and lasers and has joined the Angry Robot team! We're bloody delighted to have him, especially as we hear h̶e̶'̶s̶ ̶a̶ ̶h̶i̶g̶h̶-̶l̶e̶v̶e̶l̶ ̶m̶a̶g̶e̶… uh, has a lot of cool things to say.
To find out more about Cameron and his forthcoming grimdark novel The Traitor God – which will be published in June 2018 – head on over to Fantasy Faction. There's even a piece from Cameron himself about the series that influenced him as a kid, and there's no mention of a Lord of The Rings or an Elric in sight.
If you want to extend a hearty hello to Cameron you can find him on Twitter here or pop over and check out his website.