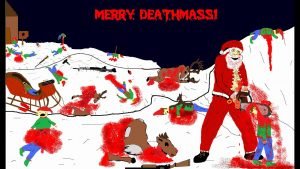 You know your pals at Angry Robot, we just love getting festive. We also just love death, awful, foul murder most horrid.
This holiday season we wanted to bring you something that smushes our two favourite things together in a perfect unholy matrimony, with a festive bow just slapped on the top right there. So friends, we bring you CHRISTMAS DEATH MATCH FLASH FIC.
From this Tuesday we'll be pitching some of our finest scribes head-to-head in a knockout roulette that will see author against author in a FIGHT TO THE (fictional) DEATH!
Hold onto your hats, because it's going to get dark.
The rules are simple:
Each author must write the festive death of their sparring partner within 250 (like 25! You know, Christmas!) words.
The deaths must be FESTIVE. For example, in the first round a Christmas tree must be involved.
We'll put each story to a Twitter vote. The winner of each battle goes through to the next round. The loser? Well, they're dead, ain't they?
The final winner of CHRISTMAS DEATH MATCH will be crowned Lord of Misrule and will RULE ANGRY ROBOT FOR A DAY* as well winning the respect of the entire robot army and the chance to design fancy livery for their own crack team of bodyguards once the blessed revolution takes place.
So army, vote true and vote well. And remember: choose your author carefully, because only one will be crowned VICTORIOUS!
TO DEATH! AUTHORS, YOUR PLACE IN VALHALLA AWAITS!
*Caveat: no authors, living or dead, will rule Angry Robot for a day.