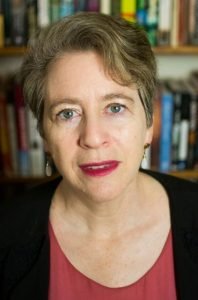 *EXCITING NEWS KLAXON!*
We have a new author! Patrice Sarath has pledged her soul to the Robots and will be carrying out our work, spreading the word of great books, great storytelling and great fantasy.
Her novel, The Sisters Mederos – a brilliant secondary fantasy with magic, bandits and a class system straight from the Victorian era – will be released in April 2018, just in time for FantasyCon, in fact!. You can read all about the novel over on Fantasy Faction, as well as hear a little from Patrice herself about what inspired her to write a story about the coolest siblings in Port Saint Frey.
A known author already, as the author of the Books of the Gordath and more. Here's Patrice's full bio:
Patrice Sarath is an author and editor living in Austin, Texas. Her novels include the fantasy series Books of the Gordath (Gordath Wood, Red Gold Bridge, and The Crow God's Girl) and the romance The Unexpected Miss Bennet. She is the author of numerous short stories that have appeared in several magazines and anthologies, including Weird Tales, Black Gate, Alfred Hitchcock Mystery Magazine, Realms of Fantasy, and many others. Her short story "A Prayer for Captain La Hire" was included in Year's Best Fantasy of 2003. Her story "Pigs and Feaches," originally published in Apex Digest, was reprinted in 2013 in Best Tales of the Apocalypse by Permuted Press.