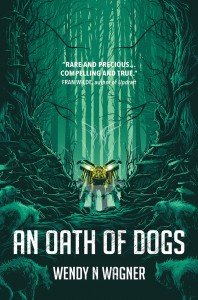 Back in March we showed off the breathtaking cover for Wendy N Wagner's An Oath of Dogs (all credit to the exceptional Joey Hi-Fi), and at the same time let you know that for each pre-order of the novel we'd be donating $1 to Freedom Service Dogs of America, a national charity which provides assistance dogs for people in need.
So, to keep you updated we have now sent off a nice, chunky donation!
Freedom Service Dogs of America is an amazing charity who train *shelter dogs* to help people with PTSD, mobility and learning difficulties with life-tasks, helping them live independent lives. When discussing the pre-order donations with Wendy FSDoA were an obvious choice, as Hattie, one of the characters in An Oath of Dogs, is a working pup who helps protagonist Kate Standish with her PTSD.
Over to Wendy:
"I am so grateful to Angry Robot for creating this terrific fundraiser for Freedom Service Dogs of America. One of the reasons I wrote An Oath of Dogs was because I believe so strongly in the power of assistance animals to change human lives for the better, and I couldn't be happier to know that we were able to make a donation to an organization that not only trains service dogs, but rescues shelter animals in the process. But of course, the real thanks goes to all the wonderful people who pre-ordered An Oath of Dogs. You're the ones who made this all happen. Thank you so, so much!"
So yes, thanks to all of you who pre-ordered for helping us to support Freedom Service Dogs of America. You're the best!
Now, before we leave you we thought we'd just share a couple of photos of the team and the service dogs (photos courtesy of the FSD website). Adorable, right? Here's to many more adorable and helpful little pups. Long may the good dogs reign.