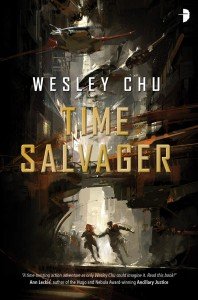 *SUPER EXCITING ANNOUNCEMENT KLAXON*
You may have seen the news on Den of Geek that Zak Olkewicz is currently adapting Wesley Chu's Time Salvager for director Michael Bay.
Bay, probably most famous for Armageddon, Pearl Harbor and the Transformers franchise will be taking on Wes' tale of chronman James, who returns to past earth one final time in order to recover resources but ends up bringing back more than he anticipated, in the form of scientist Elise Kim.
We're absolutely delighted that our Wes has reached the dizzying heights of film adaptation and we're already planning a UK screening party for our friends, when the time comes. There will be popcorn, so much popcorn.
If you want to get in on the action pre-big screen, you really should buy a copy of the book here and its sequel, Time Siege here. (UK/Commonwealth residents only, US/Can residents can buy the novel from Tor Books.)
Here's the full synopsis:
In a future when Earth is a toxic, abandoned world and humanity has spread into the outer solar system to survive, the tightly controlled use of time travel holds the key to maintaining a fragile existence among the other planets and their moons. James Griffin-Mars is a chronman – a convicted criminal recruited for his unique psychological makeup to undertake the most dangerous job there is: missions into Earth's past to recover resources and treasure without altering the timeline. Most chronmen never reach old age, and James is reaching his breaking point.
On his final mission, James meets scientist Elise Kim, who is fated to die during the destruction of an oceanic rig. Against his training and common sense, James brings her back to the future with him, saving her life, but turning them both into fugitives. Remaining free means losing themselves in the wild and poisonous wastes of Earth, and discovering what hope may yet remain for humanity's home world.