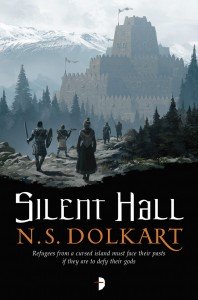 "A lush world of magics and peoples, gods, and dragons." (Women of Badassery) and "An epic fantasy adventure that explores new ground with a reluctant band of adventurers" (Looking for a Good Book).
Readers of Canada and Australia, N. S. Dolkart's excellent fantasy debut novel, Silent Hall is available on Bookbub for today (24th August) only!
So, if you haven't already settled down and immersed yourself in this wonderful world, now is you chance for only $1.99 (Can) / $0.99 (Aus).
After their homeland is struck with a deadly plague, five refugees cross the continent searching for answers. Instead they find Psander, a wizard whose fortress is invisible to the gods, and who is willing to sacrifice anything – and anyone – to keep the knowledge of the wizards safe.
With Psander as their patron, the refugees cross the mountains, brave the territory of their sworn enemies, confront a hostile ocean and even traverse the world of the fairies in search of magic powerful enough to save themselves – and Psander's library – from the wrath of the gods. All they need to do is to rescue an imprisoned dragon and unleash a primordial monster upon the world. How hard could it be?
---