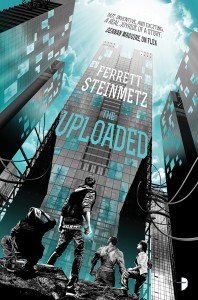 Ever wondered what would happen if we uploaded everyone's minds at the point of death?
Well in his brand new novel, The Uploaded, Ferrett Steinmetz has done just that and it turns out it might not be so fun for the living…
Life sucks and then you die…
In the near future, the elderly have moved online and now live within the computer network. But that doesn't stop them interfering in the lives of the living, whose sole real purpose now is to maintain the vast servers which support digital Heaven. For one orphan that just isn't enough – he wants more for himself and his sister than a life slaving away for the dead. It turns out that he's not the only one who wants to reset the world…
Want to give it a try? (Stupid question: of course you do!) Then check out the first chapters below:

The Uploaded will be within your grasp on 5 September (US/Can) and 7 September (UK/Commonwealth).