It's time to celebrate and re-pledge your fealty to the metallic Overlords!
"Why?" we hear you cry!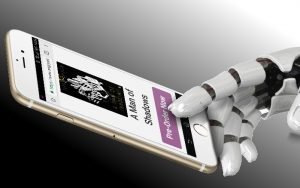 Well, let us lay this mind-numbingly amazing good news at your feet. YOU CAN NOW PRE-ORDER ALL OF OUR RELEASES DIRECTLY FROM THE WEBSITE!
*confetti canon explodes*
So now you don't need to go anywhere else to get your hands/paws/claws on some of the best F, SF and WTF fiction around – not that you'd want to anyway…
Why not celebrate by pre-ordering some of our fantastic new upcoming titles such as Jeff Noon's A Man of Shadows, Patrick S Tomlinson's Children Of The Divide, Joseph Brassey's Skyfarer or Jeanette Ng's Under The Pendulum Sun?
Go, get 'em while they're hot!