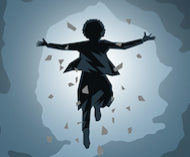 Good news – Edmund Templeton and Istvan Czernin are back!
This time, our heroes are under siege as they struggle to establish a new order in Paige Orwin's Immortal Architects, the vivid sequel to The Interminables.
Intrigued? Excited? Then read the synopsis below:
Edmund Templeton, a time-manipulating sorcerer, and Istvan Czernin, the deathless spirit of WWI, are the most powerful agents of the magical cabal now ruling the US East Coast. Their struggle to establish a new order in the wake of magical catastrophe is under siege: cults flourish and  armies clash on their borders. Perhaps worst of all the meteoric rise of a technological fortress-state threatens their efforts to keep the peace.
As if that weren't enough, a desperate call has come in from the west. A superstorm capable of tearing rock from mountains is on its way, and it acting unlike any storm ever seen before. Who better to investigate than two old friends with the sudden need to prove themselves?
Today we're celebrating the reveal of the stunning new cover art from Amazing15 – who've captured the beauty and struggle of this new novel in gorgeous detail. Head over to the B&N Sci-Fi & Fantasy Blog to check out the full image and take a sneak peek at the first chapter! Happy reading!
Immortal Architects will be available from retailers from September 5 (US/Can) / September 7 (UK/RoW), and you can pre-order the ebook right now.
---
Don't forget you can see (and download!) all of our covers forever and ever on our Pinterest board – The SF, F & WTF world of Angry Robot Books.