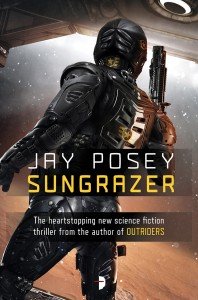 Need another hero? Meet Lincoln Suh and the Outriders – a crack team of near-immortal super soldiers engaged in spec ops in outer space! You'll love Sungrazer, the standalone sequel to Jay Posey's Outriders, and you can read the first two chapters on us, right now.
In a new Cold War between Earth and the colonies on Mars, when devastating weapons go missing, there's only one team you can call – the Outriders. A crack force of highly specialised super-soldiers, their clone bodies are near-immortal. When a fully-autonomous vessel with orbital strike capabilities goes missing, it's up to the Outriders to track the untrackable. But when the trail leads them to the influential Martian People's Collective Republic, the operation gets a lot more complicated…
Intrigued? Then read the first two chapters here:

Sungrazer is available from 4 July (US/Can) and 6 July (UK/Commonwealth). Catch up with Outriders now.
---