Righto, more news for you!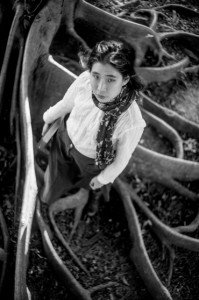 The busy bee that is Jeannette Ng, author of the forthcoming, gorgeously gothic Under The Pendulum Sun, is out and about once again this summer. This time she's heading along to Nine Worlds Geekfest to chat about writing, characterisation and to unleash her hair braiding magic upon the world (sign us up now!).
Nine Worlds is being held from 4-6 August 2017 at Novotel London West and gives you the chance to explore cosplay, crafts, sciences, humanities and the culture and creativity behind them! Tickets are available now. 
Here are all the details of where you can find Jeannette:
Saturday 5 August. 
Representing Your Race in SFF. (Panel) 10am.
A panel of writers discuss the many issues surrounding diverse racial representation of human characters in science fiction and fantasy.
Dolly Garland, Taran Matharu, Joseph Adetifa, Jeannette Ng, Lulu Kadhim
Fantasy Hair Braiding Workshop. 11.45am. 
Intricate and exotic hair braiding has become a fixture of many costumes for fantasy and historical TV and film. This workshop will teach you to braid hair like in Game of Thrones, Reign, and Vikings. Or if you have long flowing locks
(or even just shoulder-skimming length hair) and fancy a Medieval hair makeover, come along and be a guinea pig for exciting styles! Beginners welcome!
Jeannette Ng
Creating Characterisation in LARP. (Panel). 5pm. 
Our panellists discuss and provide advice on creating memorable and three-dimensional player and non-player characters in Live Action RolePlay (LARP). How do you make your rugged fighter more believable? How do you make your evil dark lord more sympathetic? This panel is here to help!
Ben Cain, Jeannette Ng, Simon Potthast, Judith Taylor, Cat Tobin.
Sunday 6 August
Nine Worlds Podcast Live. 11.45am. 
A live recording of the official Nine Worlds podcast! Join hosts Misha and Matt, alongside special guests Jeannette Ng and Mike Brooks, as they have a good ol' geeky chat about whatever topic they've decided upon in a panic at the last minute! 
Misha Anker, Matt Dillon, Jeannette Ng, Mike Brooks
Need a map to help you on your way? Lucky for you, we thought of that to!

Under The Pendulum Sun will be available from 3 October (US/Can) and 5 October (UK/RoW).