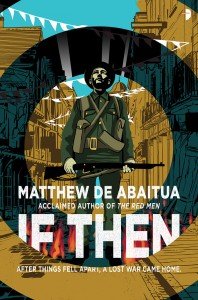 "This is the kind of post-apocalypse, after-it-all-changed novel — with clever codicils — that the Brits do with so much more classy, idiosyncratic style than anyone else." (Paul Di Filippo)
"If Then may be one of the most important works of British SF to appear in recent years. It is stunningly original and superbly well written." (Nina Allen)
If, for some strange reason (excuses on a postcard), you haven't read Matthew De Abaitua's sumptuous and intriguing post-apocalyptic If Then, then today is your lucky day!
June 25th in the UK and Canada, Bookbub has your back – so discover The Process for 99p/$1.99.
In the near future, after the collapse of society as we know it, one English town survives under the protection of the computer algorithms of the Process, which governs every aspect of their lives. The Process gives and it takes. It allocates jobs and resources, giving each person exactly what it has calculated they will need. But it also decides who stays under its protection, and who must be banished to the wilderness beyond. Human life has become totally algorithm-driven, and James, the town bailiff, is charged with making sure the Process's suggestions are implemented.
But now the Process is making soldiers. It is readying for war — the First World War. Mysteriously, the Process is slowly recreating events that took place over a hundred years ago, and is recruiting the town's men to fight in an artificial reconstruction of the Dardanelles campaign. James, too, must go fight. And he will discover that the Process has become vastly more sophisticated and terrifying than anyone had believed possible.