Fancy some expansive, colony science fiction with some corporate intrigue and alien biology all mixed in? Then you'll love Wendy N Wagner's expansive, compelling and heartfelt new novel, An Oath of Dogs.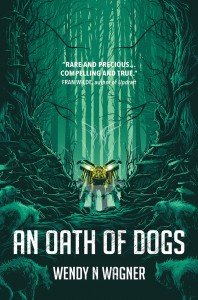 Kate Standish has been on the forest-world of Huginn less than a week and she's already pretty sure her new company murdered her boss. But the little town of mill workers and farmers is more worried about eco-terrorism and a series of attacks by the bizarre, sentient dogs of this planet, than a death most people would like to believe is an accident. That is, until Kate's investigation uncovers a conspiracy which threatens them all.
Plus as a little bonus, we're doing something a little different in the run to the release! Because we are all a little bit in love with Hattie, Kate's canine companion, we're going to offer $1 to a service dog charity with each pre-order of An Oath of Dogs (up to 500 units). Our chosen charity is Freedom Service Dogs of America and you can read a bit more about them here. If you'd like to help us donate to a great cause, just send a copy of your pre-order receipt to penny.reeve@angryrobotbooks.com and we'll do the rest.
And if you want to check the first two chapters, they're below:
An Oath of Dogs will be available from July 4 (US/Can) and July 6 (UK/Commonwealth).