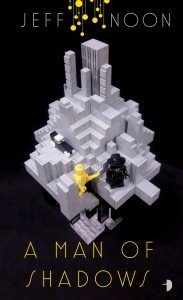 It seems that our editorial assistant has too much time on his hands (we'll fix that), and was inspired to recreate, in Lego, the cover for Jeff Noon's new book A Man of Shadows, designed by master cover artist Will Staehle.
From Jeff:
"Seeing Nick's fantastic Lego remix of the A Man of Shadows cover reminded me that a novel is never quite finished: it exists in various forms, some more jagged than others, with rougher edges, and sharper corners. A hero could get damaged, a villain might trip and fall. A brick might fall off a building and hit a minor character on the head. It's a revelation. The last time I clipped two bricks together, I was a child; now I'm a man, and my eyes have been opened! We need more Lego book covers."
Now it's your turn! We want you to build Lego versions of any of our covers, or characters from the books and send us a picture. If we love it, we'll send you a copy of Jeff's new novel! Deal? Deal.
If you're really lucky, the cover artist might even say something as lovely as this:
"I've had my covers made into immersive projected experiences, carved wooden boxes, and even into an old-school arcade games, but this is certainly the first time that I've ever seen one of my covers as a Lego sculpture, and a quite excellent one at that too! Between the structure, and the lighting Nick totally nailed this build… It's like if MC Esher grew up playing with Lego!" – artist Will Staehle