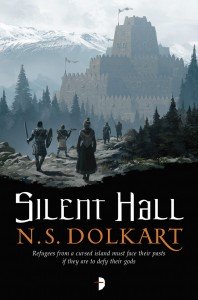 Good news, those who love audiobooks! N S Dolkart's Silent Hall is now available through Audible. Narrated by Adam Sims (Hard-Boiled Wonderland and The End of The World / World War Z) aural story lovers can expect an epic fantasy of breathtaking scope full to the brim with wizards, angry gods and dragons.
Silent Hall joins other Angry Robot novels on Audible, such as Jay Posey's Duskwalker series, Wesley Chu's Tao series, K W Jeter's George Dower series, Ramez Naam's Nexus trilogy and Rod Duncan's Gas-Lit Empire series.
Here's the synopsis:
After their homeland is struck with a deadly plague, five refugees cross the continent searching for answers. Instead they find Psander, a wizard whose fortress is invisible to the gods, and who is willing to sacrifice anything ' and anyone ' to keep the knowledge of the wizards safe.
With Psander as their patron, the refugees cross the mountains, brave the territory of their sworn enemies, confront a hostile ocean and even traverse the world of the fairies in search of magic powerful enough to save themselves ' and Psander's library ' from the wrath of the gods. All they need to do is to rescue an imprisoned dragon and unleash a primordial monster upon the world. How hard could it be?
To grab your very own audio version of Silent Hall, just click here.