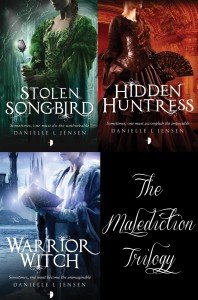 We have only one month before the secrets of the Malediction trilogy are revealed in The Broken Ones! It's just enough time to catch up on the glorious feels of the series, and Amazon are helping us all out by reducing each of the Malediction books to just $1.99 in US & Canada for the whole of May.
Stolen Songbird – Amazon US / Amazon CA
When Cécile is kidnapped and sold to trolls, she believes she is destined for the cookpot. But she learns her preconceived ideas of those who hold her prisoner are false… and finds a life that she can love.
Hidden Huntress – Amazon US / Amazon CA
Cecile searches for a counter-spell for the curse which imprisons the Trolls, while the King of Trollus tightens his grip on the imprisoned populace.
Warrior Witch – Amazon US / Amazon CA
After killing the witch Anushka, Cecile and Tristan must negotiate a tenuous political situation and find a way to forge a life once their struggles come to an end.
"SO GOOD. I am drowning in feels. If you haven't read the Malediction Trilogy then I seriously implore for you to do it before this one comes out. This series is AMAZING. And it has an amazing book boyfriend (who is MINE) and excellent supporting characters. For me, it is Fantasy at its best!"
– The Reader and the Chef
---