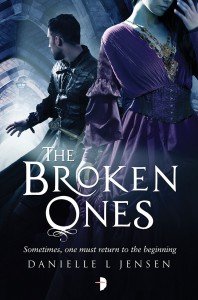 Danielle L. Jensen returns this June with her stunning prequel to the Malediction trilogy, The Broken Ones, which chronicles the ill-fated love affair between Marc and Pénélope as they struggle to navigate the complex political world of Trollus.
Below Forsaken Mountain, a plot is being hatched to overthrow the tyrant king of Trollus, and Marc is the right-hand man of its leader.  His involvement is information more than one troll would kill to possess, which is why he must keep it a secret from everyone, even the girl he loves.
After accidentally ruining her sister's chance to become queen, Pénélope is given one last opportunity by her father, the Duke d'Angoulême, to make herself useful: she must find proof that the boy she's in love with is conspiring against the crown. If she fails, her life will be forfeit.
Marc and Pénélope must navigate the complex politics of Trollus, where powers on all sides are intent on using them as pawns, forcing them to risk everything for a chance at a life together.
Except being together may turn out to be the greatest risk of all.
We can't wait to read more about Marc and Pénélope – two of our favourite characters from the Malediction trilogy – and how their doomed love casts shadows over future events.
You either? Well read the first two chapters right here, for FREE:
The Broken Ones is released June 1 (US/Can) and June 6 (UK/Commonwealth). Plus catch up with the rest of the Malediction Trilogy: Stolen Songbird, Hidden Huntress and Warrior Witch, right now!