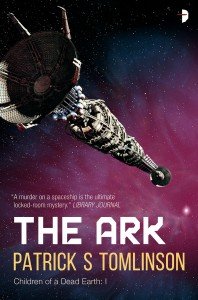 Fancy a fast paced murder mystery combined with a science fiction thriller? Then check out the first book in Patrick S Tomlinson's Children of a Dead Earth series, The Ark.
Humankind has escaped a dying Earth and set out to find a new home among the stars aboard an immense generation spaceship, affectionately named the Ark. Bryan Benson is the Ark's greatest living sports hero, enjoying retirement working as a detective in Avalon, his home module. The hours are good, the work is easy, and the perks can't be beat.
But when a crew member goes missing, Benson is thrust into the centre of an ever-expanding web of deception, secrets, and violence that overturns everything he knows about living on the Ark and threatens everyone aboard. As the last remnants of humanity hurtle towards their salvation, Benson finds himself in a desperate race to unravel the conspiracy before a madman turns mankind's home into its tomb.
We're reissuing The Ark and second-in-series Trident's Forge over the next couple of months with some very fancy new packaging (see above). Then, Aug 1 (US/Can) / Aug 3 (UK/Commonwealth) will see publication of the third instalment, Children of The Divide being released for the very first time. So really, there's never been a better time to discover your new favourite series.
Read the first three chapters here: 
Like it? Why not snap up the ebook right now! Find it here for £5.49 / US$6.99.