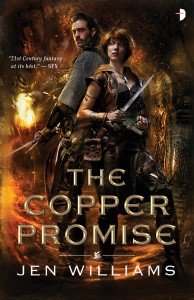 Bargain book alert! Canadian readers can snap up the witty and delightful fantasy The Copper Promise by Jen Williams. It's only available today (May 10 2017) and it's just $1.99! Head over to Amazon.ca to sate your bargain hunting needs.
What's the book about? Excellent question:
Wydrin, The Copper Cat, takes a job to escort a noble into The Citadel – a forbidden and dangerous fortress – with the help of Sir Sebastian, her exile knight companion. There, they awaken an elder god, unleashing chaos on the nearby countryside. Why can't it ever be a *simple* job?
"The Copper Promise is near-perfect fantasy adventure fun and a breath of fresh air in a genre choking on its own grittiness. Read it and remind yourself what made you fall in love with fantasy books."
– Starburst Magazine 10/10