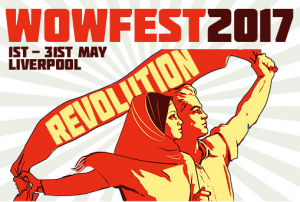 Matthew De Abaitua will be heading up to Liverpool Saturday (May 13) to take part in a panel as part of the Writing On the Wall festival.
The event is called Tax the Robots and… well the festival programmers can do a much better job of explaining the day than we can, so without further ado:
The term "robot" was coined by Czechoslovakian playwright Karel Capek in 1920 — "robota" being a Czech word for tedious labor. Today, robots assemble products better, faster and often cheaper than manual laborers, while more than 8 million U.S. airline flights a year are scheduled, guided and flown with the superhuman assistance of advanced software.
Recent reports in the UK suggest that 'robots', or software programmes, could replace up to 250,000 white collar jobs in the next few years; a Japanese insurance company recently laid off 80 staff and replaced them with robots. 02 in the UK are considering doing the same. In
Liverpool, Merseyrail staff are stringing to prevent their own jobs being outsourced to autonomous colleagues.
The response of some during the industrial revolution was to smash up the machines; should we too become 'luddites' or is there another way? Head of Microsoft, Bill Gates, is just one voice calling for us to tax the robots as a way to smoothen the transition to an autonomous work force and ensuring that the payments from human workers into tax and national insurance, the bedrock of health and social care, are not lost. Employers, ever intent on cutting overheads, are eyeing up robots as a way of driving down labour costs. But weren't robots, and tech generally, meant to free us, give us more leisure time and take the heavy load from us?
To discuss the implications of tech and robots and explore new ways of living, we have writers, trade unionists, activists, workers, commentators, etc., taking part in a series of panels and activities, including writing creative responses to explore and discuss the impact of technologies on our lives now and in the future.
Here's Matthew's panel:
Your Robots and You
11am-12:30pm 
Have you ever wondered what the future will look like, or wanted to help program a robot? Join Liverpool University's Will Slocombe, writer Matthew de Abaitua, and computer scientist Louise Dennis, to consider our future with robots. You will get to consider the ways robots might change our lives, get to devise your own stories and graphics, and take part in deciding how a robot should act. Organised in collaboration with The Centre for Autonomous Systems Technology, University of Liverpool.
The event will be taking place on Saturday May 13 at Toxeth Library. For more information on WoWFest and to book your tickets, please visit the website.