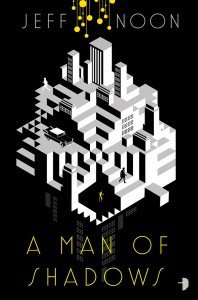 In case you've yet to hear, we're publishing Jeff Noon's highly anticipated new novel A Man of Shadows this August.
Now, we don't often do physical advanced reading copies (ARCs) of our novels but, as a special treat, we did arrange for a limited run of physical ARCs for the novel. These were snapped up in record time, but we did manage to wrestle a single copy from the grasp of a desperate, ravenous reader. We've been told they're recovering and managing well without their arms, which is lucky, as we were loathe to give up our fancy new office ornaments.
Our question is, do you want the ARC signed by Jeff (possibly (but probably not) in his own blood)?
If so, we're going to run a competition over the next week. Here's how you can enter:
Jeff is known for his novels Vurt, Automated Alice, Channel Sk1n, Pollen and a whole host more, but also known for his amazing Twitter feed full of strange, dreamlike tweets that read like stories in themselves. For example:
I was adopted by the moon. I lived in shadowy rooms, under pale silver lamps. At the age of 15, I ran away. But even now, sunlight pains me.

— Jeff Noon (@jeffnoon) April 18, 2017
A curse. That one day all the things you've ever possessed might come back to you as they are now: in their decrepitude, their putrefaction.

— Jeff Noon (@jeffnoon) April 18, 2017
Found: one lost horizon. Slightly hazy, strangely tilted. But useable: can be walked towards, sung about or employed in poems as a metaphor.

— Jeff Noon (@jeffnoon) February 25, 2017
Your train of thought has been cancelled. A replacement bus of thought is available. Your thoughts may arrive five hours later than planned.

— Jeff Noon (@jeffnoon) February 7, 2017
Night. There is no path through the wood. But at my feet I find a pebble. Another. One more. A trail. Somebody else has travelled this way.

— Jeff Noon (@jeffnoon) January 19, 2017
What we want you to do, dear Robot horde, is to create your own dreamlike story in 100 – 140 characters and tweet it to us (or email penny.reeve@angryrobotbooks.com, if you don't have love for Twitter). We'll pick the winner – and by that we mean the author of the strangest, weirdest and smartest story – next Thursday at 12 noon, UK time.
What are you still reading this for? Better get crafting that story!