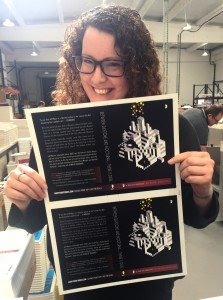 It was a cold Tuesday morning when the Angry Robot team got into a car together to take a trip down south.
We were off to the printers for the day!
The journey was long and arduous, through freezing fog, until we emerged to glorious sunshine in Southend. Penny slept through the entire thing.
Now, our reason for the visit was simple. Two out of the three day-to-day Nottingham gang (Penny and Nick) hadn't been to see our books being printed before. Oh, they'd heard all about paper thickness and book sizing but they hadn't actually had the pleasure of seeing a novel transition from words in an online document into something tangible.
Our wonderful UK printing company, 4edge, is located in Essex and happily, they've just moved into new, bigger premises to deal with the recent increase in demand for their services. Once we'd arrived and after a quick cuppa in the office we were taken to the factory floor to see what all of the fuss was about.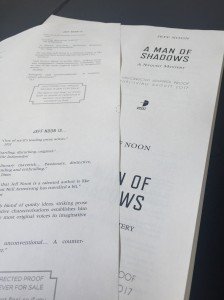 First, we were shown how the typeset manuscripts that we and 4edge's other clients send over are checked for correct sizing and scanned for any other possible errors in printing, for example page numbers. The first enormous machine we came to printed the covers, with various checks for colour bleed and automatic calibration to stop the colours drifting from the intended range. They have vast stacks of paper (we have our very own shelf!) on which four copies of a book are printed at once, which are guillotined apart by a man and terrifying machine (working at a speed which would have cost Nick many fingers). From there the books are manually sorted and prepared for binding.
Binding involves glue… Apparently 4edge uses two main types of glue, one for general printing and one super strength formula for larger books and those that need extra secure binding. There was a lot to be said about watching the precise nature of the gluing machine and the skill of the man running it. Watching the cover be fixed and then the whole book be chopped down into its final form was deeply satisfying.
I think the general consensus was that the cutting machine (see video) and printing machines *with clear viewing panels* – imagine how we stared at those reams of paper whizzing by! – were our favourites. There's a great combination of manual work along with the automatic machines – you could say it was human and machine working in perfect harmony… Asimov would be so proud.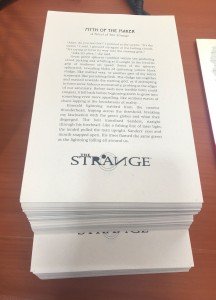 Excitingly, on the way around we got to see Bruce R Cordell's The Strange: Myth of the Maker being printed, the second print of Kameron Hurley's The Stars Are Legion AND the limited edition physical ARC print run of Jeff Noon's A Man of Shadows including watching the cover come off the line. In fact, there were Angry Robot titles spotted on shelves, in cupboards and in the mailing room. We also spotted a couple of titles by our parent company, Watkins.
Finally, after a very tasty lunch, we were off on the drive home again. Penny slept through the whole journey.
Our thanks go to Dave and Carl who gave up their time to show a bunch of overexcited bookish people around. We really did have a top day!
We'll leave you with this very pleasing video of a book being, quite literally, cut down to size (sorry about the hand reflection).