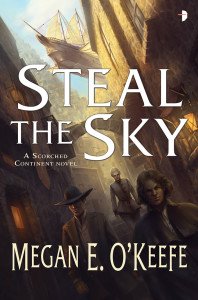 Have you heard the good news?
The brilliant Steal the Sky, written by the equally brilliant Megan E O'Keefe has been shortlisted for the Morningstar Award in one of the most respected fantasy awards around, the Gemmells!!!
You can vote for Megan right here. Voting is open now until June 2.
The Gemmell Awards are presented each year for outstanding contributions to fantasy and are so named after the late, great master of fantasy himself, David Gemmell.
The award ceremony will be held at the Edge-Lit Festival in Derby on Saturday, July 15. For more info on the festival, please click here.
Right now Steal the Sky is on offer on our  website, at just £1.55. The third book in Megan's Scorched Continent series, Inherit the Flame, was released just this month too, so make sure to pick up the set!