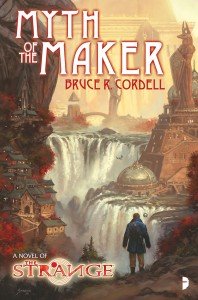 Read the first chapter of the novel that kicked off The Strange RPG, and dive into a science fantasy like no other. Bruce R Cordell introduces us to a mind-expanding alternate world discovered by groundbreaking computer programmers in The Strange: Myth of the Maker.
Here's the blurb:
Carter Morrison didn't want to kill his friends, or himself, but he had a good reason. It was either them, or the end of all life on the planet: their sacrifice saved the world.
Not that anyone knew it, until Katherine Manners stumbled over a melting man in a computer room clutching a message of doom from another world.
Now Read Chapter One

The Strange: Myth of the Maker is published on 4 April (US/CAN & ebook) / 6 April (UK/RoW) wherever books are sold.