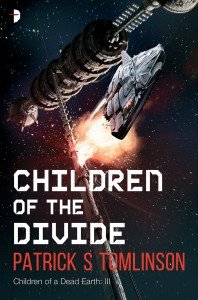 To celebrate the release of Children of the Divide, the third title in the Children of a Dead Earth series, we've decided to repackage Patrick S Tomlinson's books.
Featuring the generation ships, the covers now SCREAM SPACE DIRECTLY INTO YOUR FACE, and for that, we love them.
Our thanks, as always, to Lee Gibbons for the brilliant cover art.
Children of the Divide will be available from all good bookstores August 1 (US/Can) / Aug 3 (UK/Commonwealth), Children of a Dead Earth fans. For those that have yet to embark on an amazing hard SF series with mystery elements, fancy starting the series pre-release of the third novel? Here's what some wonderful people have had to say about it thus far:
"The stakes are high is this thrilling debut."
– Kirkus Reviews
"The Ark is an extremely fast page turner, to both unspool the mystery, and immerse oneself in the main character and his plight."
– Skiffy & Fanty
"Another amazing story with all the twists and turns I've come to expect from Patrick S. Tomlinson.  With a great mix of science fiction, action and mystery it is wonderfully written and it's not "world" building but as the author said it's 'race building',  so don't miss out on the turbulent ups and downs that had me undeniably hooked throughout the entire thing."
– Books in Brogan
"The writing is excellent, the pace superb and it's one of those books that feels like a quick read until you look out the window and see the sun rise, realising you've been reading for several hours."
– The British Fantasy Society
"I could not put Trident's Forge down, and read it in one marathon sitting. That is as much due to the writing style and characters as the non-stop, nail-biting story thread. If you're an outer space sci-fi geek like I am, you're going to love this series!"
– Popcorn Reads
Just for your visual pleasure here the cover are, altogether for the first time. Aren't they beeeeaaaauuuutiful? They'd look pretty good on your bookshelf, we think.