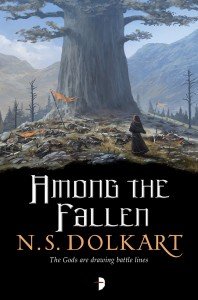 The Dragon Touched are back: read the first two chapters of N S Dolkart's deep epic fantasy Among the Fallen, the sequel to Silent Hall on us!
The Gods are Drawing Battle Lines
In the wake of the battle of Silent Hall, the city of Ardis is reeling, its leaders frightened and disorganized. The remaining oracle of the god Ravennis has resurfaced there and is spreading a new gospel – one in which Ravennis is the new Lord of the Underworld. Narky is swept up in the promotion of his religion, even while the prevailing church of Magor tries to put down its upstart rivals.
In the meantime, Criton and Bandu discover a community of Dragon Touched that has survived in hiding, and with Criton's leadership, they begin a campaign to retake their former territories with the power of God Most High at their backs.
Left to their own devices, Phaedra and Hunter go on a quest to rediscover the secrets of academic wizardry. But they soon discover that all five islanders are needed to prevent a true worldwide catastrophe. If only Criton and Narky weren't already on opposing sides of a regional war…
Read on:

Among the Fallen is published on 4 April 2017 (US/CAN & ebook) / 6 April 2017 (UK/RoW)