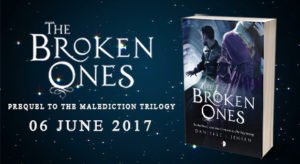 It's only 3 months until The Broken Ones, the prequel to the beautiful Malediction trilogy, arrives and we are very excited to go back in time to learn all about Marc and Pénélope's story!
To celebrate its release, super lovely author Danielle L. Jensen is helping thank everyone who pre-orders the novel by offering up some super swanky swag packs*!
As an exciting addition to the swag, Danielle has teamed up artist and blogger, The Nocturnal Fey (also known as Erika), to create some gorgeous original portraits of some of our favourite characters from the Malediction trilogy, which are being printed out as trading cards and you'll find a couple included in each pack!
So, want to get your hands on this awesome bundle?
Well, all you have to do is this:
First, pre-order The Broken Ones (obviously), then email your proof of purchase (photo, email forward or a scanned images are all good) to authordanielleljensen@gmail.com. Then you need to COMPLETE THIS FORM! This is super important: the form gives you a little bit of choice on what you receive and we tend to find that people forget to include necessary information… like a postal address.
So to be clear – no form and no email = no swag pack and you don't want that.
This campaign is open internationally and Danielle will be mailing the swag packs out from May. You can take part in the offer until June 5 2017, or until supplies run out.
The Broken Ones will be available from June 1 (US/Can) and June 6 (UK/Commonwealth). The other novels in the Malediction trilogy – Stolen Songbird, Hidden Huntress and Warrior Witch – are available now.
Make sure to keep a close eye on Danielle's social media for sneaky reveal of the character cards and teasers from the novel. You can find Danielle on Twitter, Instagram and Facebook.
 *while stocks last