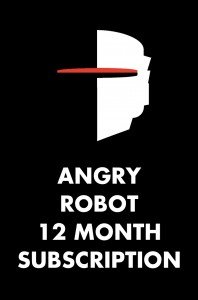 Think not of how squishy your fleshling bodies are, but how easily they might be encased in smooth, soothing steel. You can start the process by plating the inside of your head with robot wonder, and here's an amazing way to do just that…
We offer you a new, improved 12 Month Subscription to Angry Robot ebooks, for just £100, or around $125. That's every book we publish, including re-releases in different formats! From March 2017 you're looking at least 35 ebooks, which you get on the day of publication, for what is, mathematically speaking, less than the cost of a pint per book.
In further steely benevolence we'll give you an amazing 25% off everything you can chuck in a cart, to catch up on all of our ongoing series. We are robots, but we have hearts.
Embrace the coming robot revolution: sign up today.