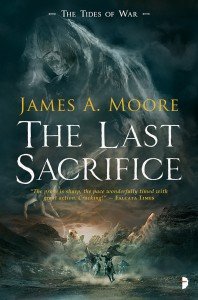 The spectacular The Last Sacrifice, released this past January, is securing James A Moore as an outstanding voice in the grimdark fantasy subgenre. It's pretty easy to see why, too. For all of the great worldbuilding and interesting socio-political interactions between characters a big chunk of The Last Sacrifice loves to cause terrible harm and trauma to our dubious heroes. It's not just them either, the bad guys get their fair share of pain and torture – and the innocent bystanders, too. All of this works to our Jim's credit though, and is building him a legion of fantasy fans.
For those yet to take the plunge into the world of the Grakhul – or for those eagerly anticipating the second book in the series, Fallen Gods, heading your way early 2018 – you can treat yourself to a new, FREE, short story from James, set in the same world.
The story, entitled The Sixth Kingdom, gives a little history into the Five Kingdoms as told by King Bron, whose task it is to capture our protagonist Brogan after he angers the gods. And honestly, those gods aren't very nice at all.
To read The Sixth Kingdom head on over to MightyThorJRS blog RIGHT NOW. A cup of tea/tankard of mead to accompany is recommended.