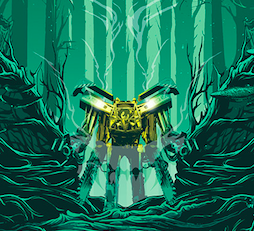 It's Friday, and it's cover reveal time! This one is for Wendy N Wagner's  fantastic, and super characterful novel An Oath of Dogs. 
Here's the synopsis:
Kate Standish has been on the forest-world of Huginn less than a week and she's already pretty sure her new company murdered her boss. But the little town of mill workers and farmers is more worried about eco-terrorism and a series of attacks by the bizarre, sentient dogs of this planet, than a death most people would like to believe is an accident. That is, until Kate's investigation uncovers a conspiracy which threatens them all.
Now, before we direct you to the full cover we want to make mention of something…
We were so taken by Hattie, Kate's canine companion in the book, that we've decided to do something a little bit different in the run up to release (July 4 US/Can / July 6 UK/Commonwealth) and give a little something back to our darling doggos. So, with each pre-order of An Oath of Dogs (up to 500 units), we're going to offer $1 to a service dog charity. Our chosen charity is Freedom Service Dogs of America and you can read a bit more about them here. If you'd like to help us donate to a great cause, just send a copy of your pre-order receipt to [email protected] and we'll do the rest.
Thanks to Joey Hi-Fi for what we think you'll agree is an absolutely spectacular cover, with one of the best uses of negative space in we've seen in a while.
Head over to Tor.com to see the artwork in full and hear how Wendy's An Oath of Dogs is in part a thank you to all working dogs.