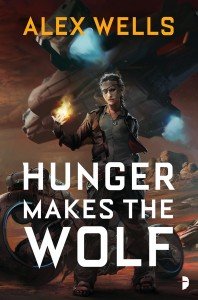 Desert world? Check. Evil corporations? Check. A great start, add to that a gang of biker mercenaries and weird witchy powers blooming in the hard as nails heroine and you're getting the barest taste of Alex Wells' new novel Hunger Makes the Wolf. It's out fresh today, so why not start it now?
More:
The strange planet known as Tanegawa's World is owned by TransRifts Inc, the company with the absolute monopoly on interstellar travel. Hob landed there ten years ago, a penniless orphan left behind by a rift ship. She was taken in by Nick Ravani and quickly became a member of his mercenary biker troop, the Ghost Wolves.
Ten years later, she discovers that the body of Nick's brother out in the dunes. Worse, his daughter is missing, taken by shady beings called the Weathermen. But there are greater mysteries to be discovered – both about Hob and the strange planet she calls home.
We've got the first two chapters right here:
Get yourself onto Tanegawa's World – snap up the ebook on March 2 2017.