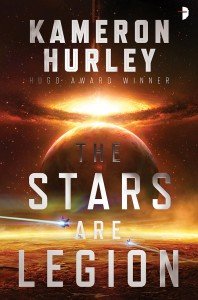 Want to read a sample of Kameron Hurley's epic and thrilling The Stars Are Legion? Of course you do!
As Andrew Liptak at The Verge says, The Stars Are Legion is 'a beautiful work of fiction, a wholly original novel that pops and crackles with big ideas'. It's also been called 'Badass'  by John Scalzi, bestselling author of Old Man's War.
Here's the synopsis:
Somewhere on the outer rim of the universe, a mass of decaying world-ships known as the Legion is traveling in the seams between the stars. For generations, a war for control of the Legion has been waged, with no clear resolution. As worlds continue to die, a desperate plan is put into motion.
Zan wakes with no memory, prisoner of a people who say they are her family. She is told she is their salvation – the only person capable of boarding the Mokshi, a world-ship with the power to leave the Legion. But Zan's new family is not the only one desperate to gain control of the prized ship. Zan must choose sides in a genocidal campaign that will take her from the edges of the Legion's gravity well to the very belly of the world. Zan will soon learn that she carries the seeds of the Legion's destruction – and its possible salvation.
Now check it out for yourself below:
Read it? Loved it? You know what to do next!