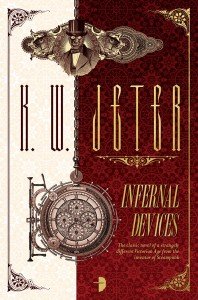 This timeless novel is a gorgeous steampunk classic. A masterclass from the father of the genre himself: K W Jeter
Infernal Devices is a classic tale of time travel, clockwork and sexual intrigue and it's also the first book in the George Dower Trilogy, so it's definitely worth your time to peruse the first two chapters we've included below.
Here's a brief synopsis to entice you in further:
When George's father died he left George his watchmaker's shop – and more.
But George has little talent for watches and other infernal devices. When someone tries to steal an old device from the premises, George finds himself embroiled in a mystery of time travel, music and sexual intrigue.

Infernal Devices is available now, so what are you waiting for?