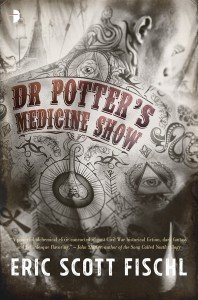 Ladies, Gentlemen and Robots! Step up and discover the strange and powerful elixir that is Dr Potter's Medicine Show.
Here is your chance to discover more of Eric Scott Fischl's darkly fantastical twist on historical fiction, described as "Dirty, dank, and dangerous. Dr Potter's Medicine Show is the missing season of Carnivàle you didn't know you needed until now." by Adam Rakunas, Philip K Dick Award-nominated author of Windswept.
Here is the synopsis:
Dr. Alexander Potter, disgraced Civil War surgeon, now huckster and seller of snake-oil, travels the wet roads of the Pacific Northwest with a disheartened company of strongmen, illusionists, fortunetellers, and musical whores. Under the quiet command of the mysterious, merciless, and murderous Lyman Rhoades, they entertain the masses while hawking the Chock-a-saw Sagwa Tonic, a vital elixir touted to cure all ills both physical and spiritual… although, for a few unfortunate customers, the Sagwa offers something much, much worse.
For drunken dentist Josiah McDaniel, the Sagwa has taken everything from him; in the hired company of two accidental outlaws, the bickering brothers Solomon Parker and Agamemnon Rideout, he looks to revenge himself on the Elixir's creator: Dr. Morrison Hedwith, businessman, body-thief, and secret alchemist, a man who is running out of time.
Intrigued? Read the first 3 chapters below:
Dr Potter's Medicine Show is available now from all reputable and non-reputable retailers, including right here.