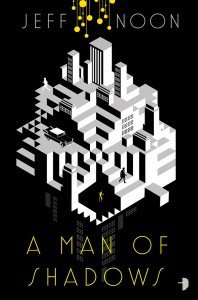 Eeeek, we have wonderful news!  Mind bending sci-fi wizard Jeff Noon has been announced as one of the Guests of Honour at the EdgeLit 6 festival in July.
The festival, beloved by the UK writing community, is a one day event in Derby full to the brim with panels, interviews, workshops and a now legendary raffle. This year EdgeLit 6 will also be host of the Gemmell Awards for outstanding fantasy.
Jeff will be in very good company, with other Guests of Honour including Peter Newman (The Malice and The Vagrant), Stephen Baxter (Obelisk, The Long Earth series) and Joanne Harris (The Gospel of Loki, Chocolat). He will be taking part in a variety of events throughout the day and talking about his forthcoming novel A Man of Shadows, which is published in early August.
EdgeLit will take place on July 15 (10AM – late) and tickets are £30. To purchase, or for more information click this here.