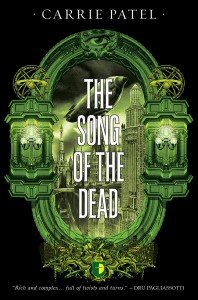 Watch out: we have an absinthe-soaked, illuminati-tinged, steampunk dream for your visual cortex!
We absolutely love the first two covers in Carrie Patel's Recoletta series – the spectacular fantasy-whodunit set in an underground city where the classes are at war and intrigue and deceit lie around every corner.
Now, we're incredibly happy to show off the beautiful cover for the gripping third title in the series, The Song of The Dead, created by the peerless John Coulthart.
The Song of The Dead will be released May 2 (US/Can) / May 4 (UK/Commonwealth). That means, if you've yet to read the first two books in the series, The Buried Life and Cities & Thrones you have some time. And you know what,  because we're nice like that, we're offering both ebooks for just $1.99 on the website for the next week.
Here are some reviews of the series, to whet your appetite further:
"The subtly fantastical story is resplendent with surprisingly deep villains, political corruption, and a gripping whodunit feel."
– Starred Review, Publishers Weekly
"The Buried Life excels on many levels, quite apart from its presentation of strong female characters: it's a cracking whodunnit with sufficient twists and turns to make Agatha Christie proud, a vivid portrayal of a vibrant multicultural society, and an intriguing love story."
– The Guardian
"Her writing exudes an engaging confidence that makes The Buried Life hard to put down. Patel also shows a gift for pithy dialogue, and her two female leads are both resilient although in different ways".
– SciFi Now
"The Buried Life artfully sets a who-dunit murder mystery in a dystopian underground city filled with dark politics and foul secrets. It's a gripping read from start to finish, with two clever female leads and a delightfully colorful cast. More, please!"
– Beth Cato, author of The Clockwork Dagger
"Carrie Patel has created a world that's so rich, so full, and so well-developed, that it's incredibly easy to get lost in it. There are layers to the characters and layers to the world itself. It's incredibly thought out and developed, and it's so well-done. I'd revisit this world again for sure."
– In Case of Survival
"I was on the edge of my proverbial seat."
– The Qwillery
Now, take a look at all of the covers together. A fine trilogy to show off on your bookcase!