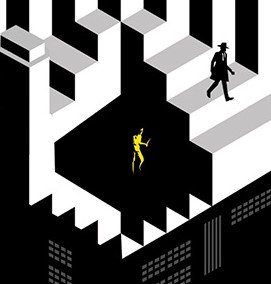 It's time to step into the shadows with the electrifying new novel A Man of Shadows, from the very talented Jeff Noon, author of the award winning novel Vurt.
Here's the synopsis:
Below the neon skies of Dayzone – where the lights never go out, and night has been banished – lowly private eye John Nyquist takes on a teenage runaway case. His quest takes him from Dayzone into the permanent dark of Nocturna.
As the vicious, seemingly invisible serial killer known only as Quicksilver haunts the streets, Nyquist starts to suspect that the runaway girl holds within her the key to the city's fate. In the end, there's only one place left to search: the shadow-choked zone known as Dusk.
And we're super excited to be able to show you the amazing cover art from Will Staehle and you can see the full thing, in all its glory, in the exclusive reveal on Tor.com. Just follow the link in the teaser at the top!
A Man of Shadows will be available from all reputable and non-reputable bookstores from August 2 (US/Can) / August 4 (UK/RoW).