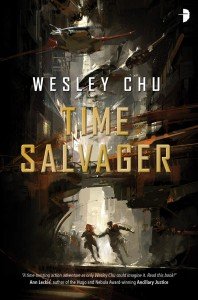 UK robots: do you want a discount?!
Well we're known for giving the people what they want here at Angry Robot, so you're in luck! The good eggs over at BookBub have granted all your new year wishes and discounted the UK version of Wesley Chu's Time Salvager to a time-warping 99p on Saturday 15th January!
If you can't get enough of time twisting action-adventure in a future, toxic Earth then you won't want to miss the chance to dive into the world of Time Salvager. 
Here's the synopsis:
In a future when Earth is a toxic, abandoned world and humanity has spread into the outer solar system to survive, the tightly controlled use of time travel holds the key to maintaining a fragile existence among the other planets and their moons. James Griffin-Mars is a chronman – a convicted criminal recruited for his unique psychological makeup to undertake the most dangerous job there is: missions into Earth's past to recover resources and treasure without altering the timeline. Most chronmen never reach old age, and James is reaching his breaking point.
On his final mission, James meets scientist Elise Kim, who is fated to die during the destruction of an oceanic rig. Against his training and common sense, James brings her back to the future with him, saving her life, but turning them both into fugitives. Remaining free means losing themselves in the wild and poisonous wastes of Earth, and discovering what hope may yet remain for humanity's home world.