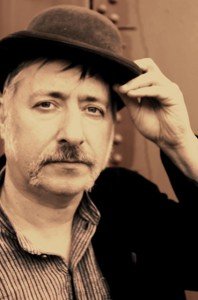 Greetings, travellers!
And travellers we shall be talking about today, as Elizabeth Barnabus – beloved heroine of the Gas-Lit Empire universe and novels The Bullet-Catcher's Daughter, Unseemly Science and The Custodian of Marvels – is taking flight from the UK to the vast oceans.
That's right, Rod Duncan is back with a brand new series, the Map of Unknown Things, which is set in the same world as that of the Gas-Lit Empire. The series will begin in January 2018 with the first novel The Queen of All Crows. Here's the synopsis:
Only one woman can stop the world from descending into endless war.
The year is 2012. The nations of the world are bound together in an alliance of collective security, overseen by the International Patent Office.
When airships start disappearing in the middle of the Atlantic, the Patent Office is desperate to discover what has happened. Forbidden to operate beyond the territorial waters of member nations, they send spies to investigate in secret.
One of those spies is Elizabeth Barnabus. She must overcome her dislike of the controlling Patent Office, disguise herself as a man, and take to the sea in search of the floating nation of pirates who threaten the world order.
Eeek, we can't wait to the new instalment of our favourite genre-defying world with you!
For more information on the new series, plus giveaway of all three books in the previous series please head over to the wonderful Fantasy Faction.