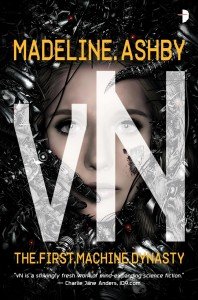 Exciting discount news robots!
Do you love zombie robots, vampire robots, humanoid robots, and anything robot? Then you'll want to get your hands on the epic cyberpunk world of
Madeline Ashby's
vN
, book 1 of the First Machine Dynasty. On
January 9th
you can plug vN into your memory drive with a 
BookBub bargain!
In the US vN is $0.99
In Canada vN is $1.99
In the UK vN is 99p
Take a look at the synopsis of vN:
Amy Peterson is a von Neumann machine, a self-replicating humanoid robot.
For the past five years, she has been grown slowly as part of a mixed organic/synthetic family. She knows very little about her android mother's past, so when her grandmother arrives and attacks her mother, little Amy wastes no time: she eats her alive.
Now she carries her malfunctioning granny as a partition on her memory drive, and she's learning impossible things about her clade's history – like the fact that the failsafe that stops all robots from harming humans has failed… Which means that everyone wants a piece of her, some to use her as a weapon, others to destroy her.