New cover alert! It's a brilliant one too, as you'd expect from the amazingly talented artist, Kim Sokol.
The exciting cover is for Inherit the Flame, the 3rd novel in Megan E O'Keefe's Scorched Continent series, following on from Steal the Sky, – described as having 'witty banter, realpolitik, elusive and wonderful magic' by Sci-Fi and Fantasy Reviews – and Break the Chains, which left Fantasy Fiction 'eagerly anticipating the follow up.'
The full cover can be seen in all its glory on the B&N SF & Fantasy Blog, as well as an exclusive excerpt of chapters one and two. Just click on the teaser below to be taken to the full reveal: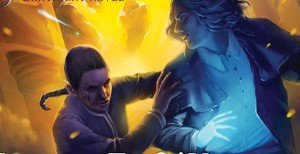 Inherit the Flame will be released April 4 (US/Can) / April 6 (UK/RoW).