Continuing our tie-in novel situation, Angry Robot are super excited to be publishing Bruce R Cordell's Myth of The Maker, a novel based on the RPG The Strange, which was co-created by Monte Cook Games and Bruce himself.
If you're not familiar with The Strange RPG, it's a world set on modern day Earth which allows GMs to take players through different 'recursions' based on literary creations. Yes, it's our type of thing.
Here's the synopsis for Myth of The Maker:
Carter Morrison didn't want to kill his friends, or himself, but he had a good reason. It was either them, or the end of all life on the planet: their sacrifice saved the world.
Not that anyone knew it, until Katherine Manners stumbled over a melting man in a computer room clutching a message of doom from another world.
Now, we're super excited to be bringing you both the cover for this amazing book AND chapter excerpt, ahead of its release date in April.
Just click on the teaser image below to be taken through to the full reveal and excerpt over on the KnifesEdge blog: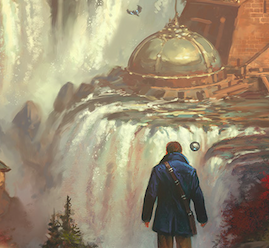 Reviewers: review copies are available on NetGalley now.