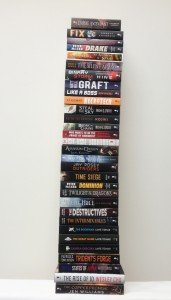 Well, 2016 was a busy old year for us, what with publishing many wonderful, wonderful books, continuing to take over the world, offering human sacrifices to the gods, that kind of thing.
It seems our sacrifices haven't gone unnoticed as we have found our books placed in a whole load of 'best of 2016' lists, which has, quite honestly, made out 2017 thus far.
We'd like to say a big thank you to everyone who took the time to read, review and rave about our books. It really does mean the world to us, you guys keep us doing what we do and help us strive to release the best in SF, F & WTF last year, this year and to infinity and beyond (we might have nicked that quote from somewhere).
So, for your perusal, here's a rundown of our books, placed in the annals of 'best book' lists.
Peter Tieryas' United States of Japan 
Matthew De Abaitua's If Then
From Couch to Moon
The Best SF I Read This Year
"How love, community, and mid-life crisis adapt in an alienating political system based on algorithms."
Foz Meadows' An Accident of Stars
Ferrett Steinmetz's Fix
Bibliotropic
Top 11 Books I Read in 2016
"Steinmetz's 'Mancy series has done something that's pretty uncommon for me when it comes to urban fantasy: it made me hungry for more."
K C Alexander's Necrotech
Christopher Hinz's Binary Storm
Peter McLean's Drake and second-in-series Dominion
The Automatic Cat 
Best Books of 2016
"The follow-up to Drake sees the return of Don Drake, 'Hell's Hitman'. Easily as gritty, sweary – and that's very sweary – and as much fun as its predecessor."
Jen Williams' The Copper Promise
Jay Posey's Outriders 
James A Moore's The Last Sacrifice (technically 2017, but hey, the ARC was read in 2016)
Bookwraiths
The Best of 2016
"People need to read James A. Moore's smooth, horrifying sword and sorcery books.  Especially this one, which begins a new series."