Welcome, welcome Robot minions!
Come, sit, drink a tea and check out the absolutely badass updated (and one new) covers we have for Madeline Ashby's Machine Dynasty series. Each of these fine pieces of art can be credited to Martin Bland AKA Spyroteknik.
'But why the updates?', you ask. Well, we're reissuing the first two books in mass market format (US/Can) at the start of 2017 and then in May Rev, the third title in the series will be hitting shelves.

For those who are yet to embark on the Machine Dynasty series, it's a dark, twisted and brilliant series that explores the nature of man – and specifically men – when given power over AI – specifically synthetic women and girls. This is far removed from the coy, cute little girl robots you'll find in some traditional science fiction. The series might be delivered with the drama and pacing of an action movie, but it's the science fiction that properly explores a near future that will soon be upon us.
Take a look at the synopsis for each below, alongside the new cover art.
vN: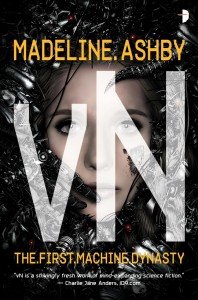 Amy Peterson is a von Neumann machine, a self-replicating humanoid robot.
For the past five years, she has been grown slowly as part of a mixed organic/synthetic family. She knows very little about her android mother's past, so when her grandmother arrives and attacks her mother, little Amy wastes no time: she eats her alive.
Now she carries her malfunctioning granny as a partition on her memory drive, and she's learning impossible things about her clade's history – like the fact that the failsafe that stops all robots from harming humans has failed… Which means that everyone wants a piece of her, some to use her as a weapon, others to destroy her.
"Ashby's debut is a fantastic adventure story that carries a slyphilosophical payload about power and privilege, gender and race. It is often profound, and it is never boring."
– Cory Doctorow, BoingBoing
vN will be re-released in January 2017.
iD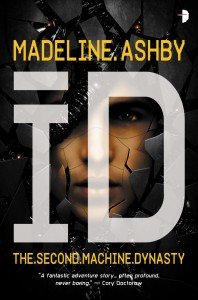 :
Javier is a self-replicating humanoid on a journey of redemption.
Javier's quest takes him from Amy's island, where his actions have devastating consequences for his friend, toward Mecha where he will find either salvation… or death.
"The world that Ashby envisions is fascinating, filled with strange ideas, nifty technology, and some rather mature implications. Asimov might have given his robots the Rules, but Ashby doesn't shrink back from exploring a world where disposable, artificial, life-forms who must obey or die, have become relatively commonplace. iD is not always a happy, easy, or comforting read, but it's certainly an intriguing one, and a refreshingly thoughtful exploration of the themes."
– Tor.com
iD will be re-rereleased March 2017.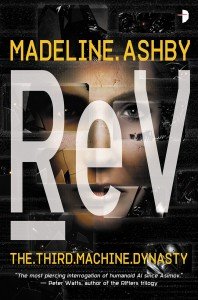 ReV:
In the third and final instalment of the Machine Dynasty, the rapture for which the self-replicating humanoid vN were engineered finally comes to pass. Now that the failsafe that once kept vN from harming humans has been hacked, all vN are discovering the promise – and the peril – of free will.
Her consciousness unleashed across computer systems all across the world, the vicious vN Portia stands poised to finally achieve her lifelong dream of bringing humanity to its knees. The old battle between her and her grand-daughter Amy comes to its epic conclusion in the war for the very systems that keep the planet running.
Can Amy get her family to the stars before Portia destroys every opportunity for escape and freedom?
ReV will be released May 2 (US/Can) / May 4 (UK/Commonwealth).
Now, sit back and let the excitement grow. In the meantime, we'll leave you with the covers side-by-side for optimal viewing pleasure.