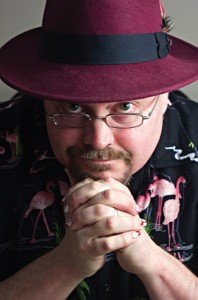 YEEEEEEEEYYYYYYYYYYYYYYYYYYYYY!!!
You all know how much we love Ferrett Steinmetz and his amazing 'Mancer series (Flex, The Flux, Fix), right? Well, when Ferrett told us he'd written a new standalone novel we wanted it so much that we took his entire family hostage until such a time as he signed a contract with us, in his own blood, promising fealty, book rights and doughnuts each month until the end of time.
So we are delighted, made up, overjoyed and pretty darn chuffed to announce that in September 2017 Ferrett's The Uploaded will be published by Angry Robot.
Now, we want to tell you all about the novel but we guess the best person to do that would be Ferrett, and wouldn't you just know it, he's done so by writing a blog about the book over on the B&N Sci-Fi & Fantasy Blog! Head on over and have a read!
WE'RE JUST SO EXCITED!