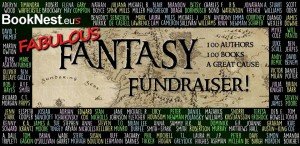 One hundred fantasy authors!
One hundred signed books!
Six lucky winners!
Two auctions!
One amazing charity!
The Booknest is running a festive fundraiser for Doctors Without Borders (aka Médecins Sans Frontières), a charity which carries out vital humanitarian work around the world, providing medical aid where it's needed the most.
To support this wonderful cause a hundred fantasy authors have donated signed books for two special festive auctions, including Robots Peter McLean, James A Moore, Andy Remic and Jen Williams.
Now YOU get a chance to get your hands on some brilliant books *grabby hands*. So dig deep, donate to a great cause and tell all of your friends, too!
For details of how to enter just click here.