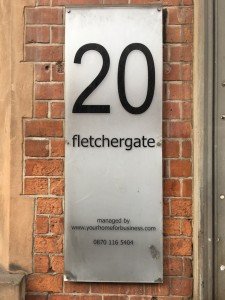 Robot friends, after six years it's time that we leave the hallowed halls of Lace Market House and move to pastures new.
So, from this Thursday (December 8) our new headquarters will be:
20 Fletcher Gate
Nottingham
NG1 2FZ
Tel no: +44 115 9338456  (please be aware we'll be porting over our current number, so if you can't get hold of us for a couple of days, that's why *stares at technology* We'll be on our email as usual in the meantime.)
It's quite lovely in our new pad, there's space for a couple of sofas and a hat stand (very important), an original fireplace AND, perplexingly a cage of stones which we've already decided are symbolic of the souls of children lost to the building. Our aim is to paint little faces on as many of them as we can before being found out, but don't tell anyone.
Of course, if ever you're in Nottingham and fancy popping by, do come and say hello/ offer fealty to your friendly Robot Overlords. There's talk of getting a fancy coffee machine so I'm sure we can make you a latte or similar, if you'd like. We'll have biscuits, too.
Here's a little map so you know whereabouts we are. Yes, we are sandwiched between two pubs and it was definitely a coincidence.
*Hiccup*