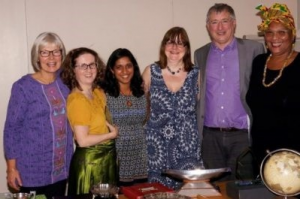 Rod Duncan, author of The Fall of the Gas-Lit Empire series, has won himself an award from the Leicester Writer's Club.
The Nick Leach Award recognises those writers who take the time to help other achieve their full potential, and who are cheerleaders for the rest of the group. The winner is presented with a globe, which is pleasingly steampunk-esque for the man himself.
For Rod's reaction to the news do read this lovely little piece on his Gas-Lit Empire Facebook page.
Rod, as always, we salute you for being a wonderful robot human. Congratulations and well deserved.
In other great news The Bullet-Catcher's Daughter, the first in The Fall of The Gas-Lit Empire series (and a nominee for the 2014 Philip K Dick Award), just surpassed 1,500 reviews on GoodReads. Pretty impressive, eh? If you're wondering what all of the fuss is about, here are a few select comments:
"Looking for a good book?  Mystery, duplicity, secret societies, alchemy, romance, action … The Bullet-Catcher's Daughter by Rod Duncan has it all."
– Looking for a Good Book
"A well-written novel, the story fantastically put together with elements of alternate history and steampunk, topped off with a strong, resourceful heroine. You can't help but be drawn to Elizabeth Barnabus."
– Mogsy
"A wonderful story that I would recommend to anyone even remotely interested in speculative fiction."
– Monica
"Fascinating."
– The Haunted Reading Room
"A rollicking steampunk adventure, filled with intricate twists and turns, top-notch world building, and a heroine that quickly became one of my favorites ever."
– Books. Bones & Buffy
There are currently three titles in the Gas-Lit Empire series, available from all reputable and not-so-reputable bookstores now!