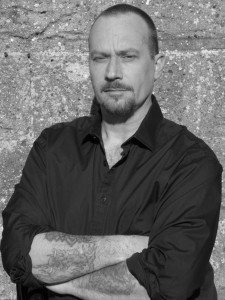 Now and again our authors get requests to give talks to interested parties and aspiring authors. Sometimes these requests are from prisons, which is exactly what happened to Peter McLean the other week, as he was asked to speak to inmates at HMP Norwich.
Being inside a prison, as an author imparting knowledge, is something that not that many of us experience, so we asked Peter to write about his experience.
So, in Peter's own words…
A couple of weeks ago I went to prison.
Don't worry, they let me out again – I was invited to give a guest talk on writing and publishing to a prisoner education group at HMP Norwich, the local prison in the city where I live.
HMP Norwich is 'Category B/C multi-functional', which basically means it's a medium-security prison housing a mixture of convicted and remand prisoners. Hard though it may be to believe, I had never been in a prison before. Well, now I have.
As you might expect, there are high walls and lot of fences and gates with razor wire and cameras everywhere, so initially I felt quite at home. I used to work in a high-security datacentre, which was much like that. The datacentre was a modern compound though, whereas HMP Norwich is the same sort of looming Victorian monolith as Strangeways (HMP Manchester) and Wormwood Scrubs, albeit not as large. As soon as the first set of steel-barred gates clanged shut behind me, I was locked in and I knew it.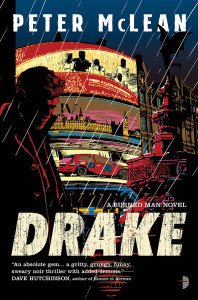 I also knew I'd be coming out again in a few hours time. What it must feel like to know you won't be going back out of that gate for years to come I can't even imagine. I also couldn't imagine what my audience was going to be like, and that's where I got a nice surprise.
I was escorted to the prisoner education block, where there were a group of about 30 prisoners and a few staff waiting to listen to me. That's a lot more people than I was expecting.
I talked about how I got started with writing and how I eventually got published, and I was pleasantly surprised to find a few aspiring writers amongst the audience. Most of the session was Q&A and I got asked a lot of interesting questions, not just about writing but really about life, the universe and everything.
The whole session went on for over three hours, and one of the highlights for me was meeting a young lad in his 20s who had learned to read and write while he was inside. He had just earned a silver certificate in literacy, and they asked me to sign it for him and it was presented to him as part of the session. I felt very proud of him, and I think everyone else there felt the same way.
Another young guy showed me his own writing, about his abusive family and how he ended up living as a homeless addict. He asked me if I could come back and help him with it, and I would really like to do that.
Some of the guys asked me to read to them, so I read a chapter of Drake and got a nice big round of applause afterwards, followed by another deluge of questions.
Everyone wanted to shake my hand at the end of the session, and the prison library now has a long waiting list for my books.
I must admit I was exhausted afterwards. I've done panel discussions and readings at conventions before, but this was my first proper solo event. Three hours is a long time to keep that many people engaged and entertained all by yourself, but it was absolutely worth it.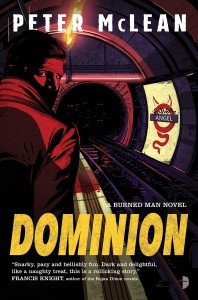 The thing I really took away from the session was that, yes, these men might have done things that got them locked up but no one in that room felt like a bad person. No one was impolite or badly behaved towards the staff, or me and the general feeling in the education block was of people who actually wanted to learn.
I posted about the day on a Facebook group I belong to, and got a comment from a gentleman who is the Sergeant over the gang unit of the Utah State Prison. He told me that the inmates there always look forward to any volunteer who comes in and gives their time, too, and that prisoners are some of the most avid readers he knows.
So, fellow authors or anyone else who feels able to give a talk on an interesting subject, I would highly recommend this as a rewarding and very helpful thing to do.
I hope it made someone's day. I know it made mine.