Listen up guys!
The second book of K C Alexander's fabulously fantastic, ass-kicking SINless trilogy has been given a name! Get ready for it…
…Nanoshock! We're super excited to bring you the second in the series, which is going to smack you upside the head with more cyber-punk fuelled drama with a side of zombie.
To get you excited before Nanoshock comes out, here's some praise for the first in the SINless series, Necrotech: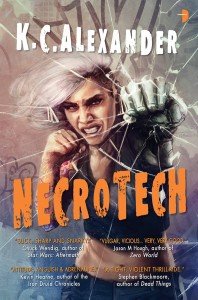 "Necrotech bleeds with raw & unapologetic badassery. Riko is the cyberpunk heroine I've been waiting for, struggling with the truth that the tech we embrace to solve our problems just creates new ones, and no one has a chipset to fix humanity's bugs. K.C. Alexander dials up the attitude, anguish, and adrenaline in this explosive debut, and I'm looking forward to Riko's next run."
– Kevin Hearne, NYT Bestselling author of The Iron Druid Chronicles
"Necrotech is a high-octane cyberpunk thrill ride that starts at full throttle and never slows down. Riko is an amazing, diverse, ass-kicking character that will leave readers wanting more."
– Tim Moore, Strange Horizons
"Mixing together high-tech imagination and conspiracy, this one is sure to satisfy the cyberpunk craving you didn't know you had."
– Kirkus
"Hard hitting and fun, it reads like a sci-fi action film."
– Pop Culture Beast
"So this is not my usual kind of review. And that's totally fine by me, because this is not my usual kind of book. It is so much fucking better than 'usual'. There's no lily to gild here. Necrotech is awesome. Go and buy it."
– Over The Effing Rainbow
Nanoshock will be out in July 2017, so fear not you've still got plenty of time to read Necrotech if you haven't already.